The Inn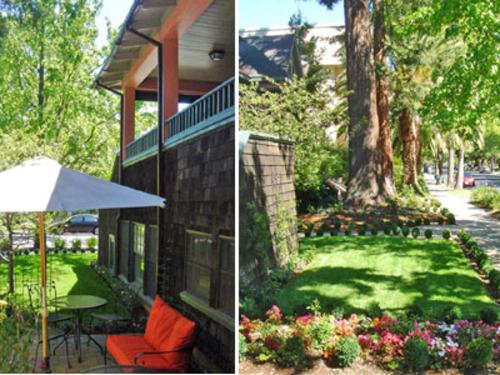 Guests may enjoy sitting outside on the two wicker-decorated porches or in the beautifully landscaped garden. There is parking on the grounds and easy access to public transportation to San Francisco and San Jose.

We serve breakfast in the dining room of the corner house every morning. On weekdays, breakfast is served from 7:15 am to 9:00 am. On weekends, it is served later, from 8:00 am to 10:00 am.
Breakfast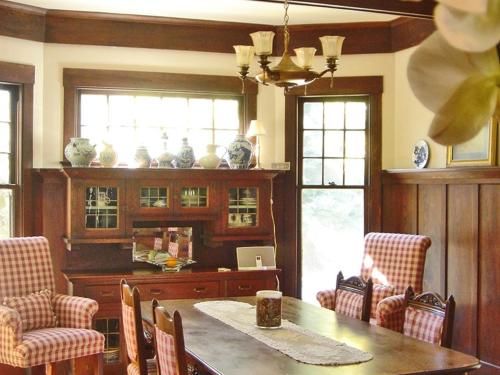 Our petit déjeuner menu varies daily and includes our legendary homemade granola, organic oatmeal, eggs, omelets and eggs scambles, French toasts, waffles, delightful pancakes, fruits, cheese and meat trays. freshly squeezed juices, locally produced organic yogurt, coffee and tea and of course, fresh baked breads from the famous Mayfield Bakery and featuring an assortment of pastries from Paris Baguette.
Delighful nespresso coffee available if desired in many different flavors!
Amenities
Uniquely shaped guest rooms well furnished
An iron and board is set up in both houses and in each suite
Full kitchen facilities in some units
Luxurious Aveda toilettes and organic essential oil homemade soaps
Room phones available upon Request (incoming and outgoing lines accessible)
Cable TVs, Hair dryers
Free wireless internet access
NEW YORK TIMES and WALL STREET JOURNAL morning papers in the breakfast area
Private parking on property site
Yoga classes at the YOGA LOFT, please see schedule and instructor information under Yoga Loft tab
Transportation Services
Door-to-door airport pick up and drop off services available, flat rate
Bicycle Rentals available for daily, weekly and monthly rates.
Policies
Visa, MasterCard, American Express and of course, cash accepted
Check in: after 2:00 pm; check out: before 11:00 am
Cancellation: 48-hour before arrival
Non-smoking on the Cowper Inn property